The 2022  Stanton Drew Flower Show  will be held on the 3rd September

20190713_105446

Turnip Miniature Garden IMG_2908

IMG_3571

IMG_3521

Cups IMG_2910

P1170906

P1170910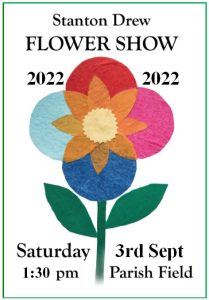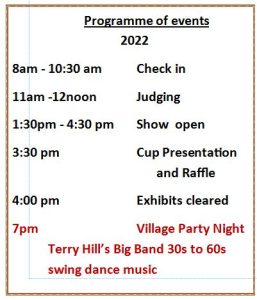 Select any downloads that you need from this page.
Following the sucess of last year's reduced sized show, this year's show will be a little larger, with 62 classes, but it will still be held in just the Village Hall and paddock. That will be on Saturday 3rd September. 1:30 pm to 4:30 pm.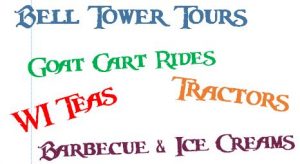 Business Links table.
If you own, or run a business which operates from the village then please bring any promotional material / flyers and leave them (considerately) on display for all to see, on the Village businesses promotion table in the Village hall from late morning onward.
2022 Schedule of Classes 1 to 26
                 Flowers Classes 1 to 6

1 ) A vase of one stem of a flowering shrub
2)  Three dahlia flowers in a vase
3)  Five different flowers in a vase
4) A single hydrangea  head in a vase
5) Pot plant - flowers or foliage - max pot size 8" top diameter
6) A posy of edible flowers and / or herbs

               Vegetable Classes 7 to 20

7) A plate of 5 pod vegetables of the same variety e.g. peas, runner or French beans
8)  A plate of 3 potatoes, all the same named variety
9) Longest Runner Bean
10) A plate of 3 trimmed  beetroot
11) A plate of 3 trimmed carrots
12) A plate of 5 tomatoes (not cherry type)
13) A plate of 10 cherry tomatoes
14) A plate of 5 shallots
15) 3 onions, trimmed
16) 3 courgettes - max. length 8" (20cm)
17) A single head of cabbage  / cauliflower
18) A cucumber
19) Any other vegetable
20) The heaviest single potato

               Fruit Classes 21 to 26

21) A dish of 12 fruits of any single variety of soft fruits e.g tayberry, raspberry, strawberry, loganberry
22) A dish of hedgerow fruits (minimum of 12 fruits) e.g. sloes, crabapples, blackberries
13) A plate of 3 apples  of the same variety
24) A plate of 3 pears  of the same variety
25) A plate of 5 plums of the same variety
26) 3 sticks of rhubarb - trimmed
2022 Scheule of Classes 27 to 62
     VILLAGE ALLOTMENT  Class 27

27)     The Best Kept  Allotment on the Village Site  -
Judged in the week beginning 29th August 2022
          FLORAL ART Classes 28—30
28) A Jubilee arrangement
29) My garden in a vase
30) A posy in an egg cup

         COOKERY Classes 31 to38

31) A bottle of "corona…" - homemade non-alcoholic drink
32) A glass jar of homemade chutney or pickle
33) A glass jar of jam or jelly
34) A glass jar of marmalade
35) 6 slices of your favourite traybake
36) My favourite named cake
37) A plate of 5 biscuits
38 A home made named alcoholic drink

  CHILDRENS KS 1 Classes 39 to 44

39) A garden in a tray (max. 23 x 35cm)
40) A model made from recycled materials
41) An original handwritten or typed, decorated  Jubilee poem
42) A collage on the theme of the Jubilee. max size A3
43) A vegetable and/or fruit character
44) 5 decorated fairy cakes

CHILDRENS KS 2 Classes 45 to 50

45) A garden in a tray (max. 23 x 35cm)
46) A model made from recycled materials
47) An original handwritten or typed, decorated  Jubilee poem
48) A collage on the theme of the Jubilee. max size A3
49) A vegetable and/or fruit character
50) 5 decorated fairy cakes
        Art & Craft Classes 51 to 56

51) Any Needlcraft  created during 2021 / 22 not previously exhibited
52) Any woolcraft item
(excluding tapestry)  - created during 2021 / 22 not previously exhibited
53) Any artwork - created during
2021 / 22 not previously exhibited
54) Papercraft -  created during
2021 / 22 not previously exhibited
55) An original Jubilee tree poem
56) An item of art/craft made another repurposed item

    Photography Classes 57 to 62

57) 3 pictures  (mounted - max. A4 size ) relating to the Jubilee Year
58) 3 pictures  (mounted - max. A4 size ) relating to your garden taken this year.
59) A picture of my vegetable patch / allotment -taken this year
60) Wild flower(s)
61) Wildlife
62) A photograph of a tree